Is a campervan a viable alternative to the traditional office?
First let's look at the evolution of the office.
History of the office
In our evolutionary history, the office is a new idea, from only the last century.
When industries like machining or vehicle manufacturing grew large, the "Office" was created to manage the processes of those industries. Also, in the early days of the computer or the word processor, you brought the office worker to the machine.
Over the last fifty years, the number of staff in these office spaces have grown.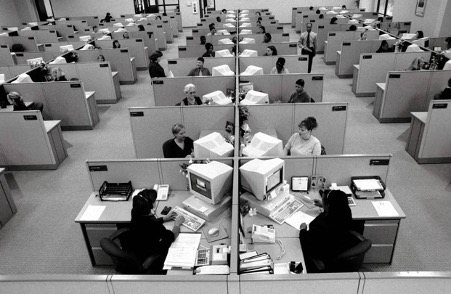 As written communication took more than a day, proximity to the work being done was the primary factor. Office towers were created to house evolving layers of office hierarchy and ensure they could communicate with each other quickly.
Evolution of the office
Over time, affordable networked computers meant workers no longer need to go to where the company's' computers were housed. Evolution of email made written communication instant. More recently, Zoom removed the need for everyone to be in the same location. And then, COVID-19 restrictions demonstrated another surprise – how much faster and more efficient some systems have become without having to be in an office.
Arguments for the office
Humans are social animals, who like to feel part of a community and have often looked for this in the place that they spend 40 hours of their week. Some people are convinced that the best decisions and shared ideas are generated in informal meetings at the coffee machine or in passing. However, for some, feeling an essential part of a team can be achieved without having to sit in an office every day and amazing results can be achieved when agile teams are given the time and a collaborative platform to build of each other's ideas.
Starting an office from scratch
The ultimate test would be to start with a blank slate. If you were to physically build a company, after listing the functions required, you would probably outsource many of these to specialists. Then, you would work out how to resource the remaining functions with the necessary tools and the people to operate them. You might then need to build a factory to house these tools and their operators. But for those people who didn't need to operate these tools, whose role was to design, communicate, collaborate, or market and sell. Would you be able to justify the expense to your investors of building another building, an office, to house them? Would it limit the number of potentially qualified people you could employ if you told them they would have to commute to that building every day?
For over two years, companies have had to rethink how they employ people. Many employees have found remote working opportunities to be refreshing and beneficial to their health and relationships outside of work.
Mobile office built by AB Race Cruisers
So who needs an office anymore?
What are the alternatives? Some employees have the space to create a quiet place in their home to work from. Others invest in building an office in their garden and others still, will rent a co-working space. More and more we are seeing people choose another option. No longer is the campervan seen as just a place to escape from work. Some people are using their escape vehicle to actively combine travel and work.
Benefits of a campervan as an office
What could be better than going for a surf before your first zoom call of the day or a hike to catch the sun setting over the mountains to round off a collaborative surge to meet a deadline?
A growing industry of specialists can build you a campervan to meet your specific needs:
5G Antenna for reliable video calls
a multi-use station for working and dining
Solar power and a lithium battery system
A fridge and a coffee machine
And of course, a comfortable place to sleep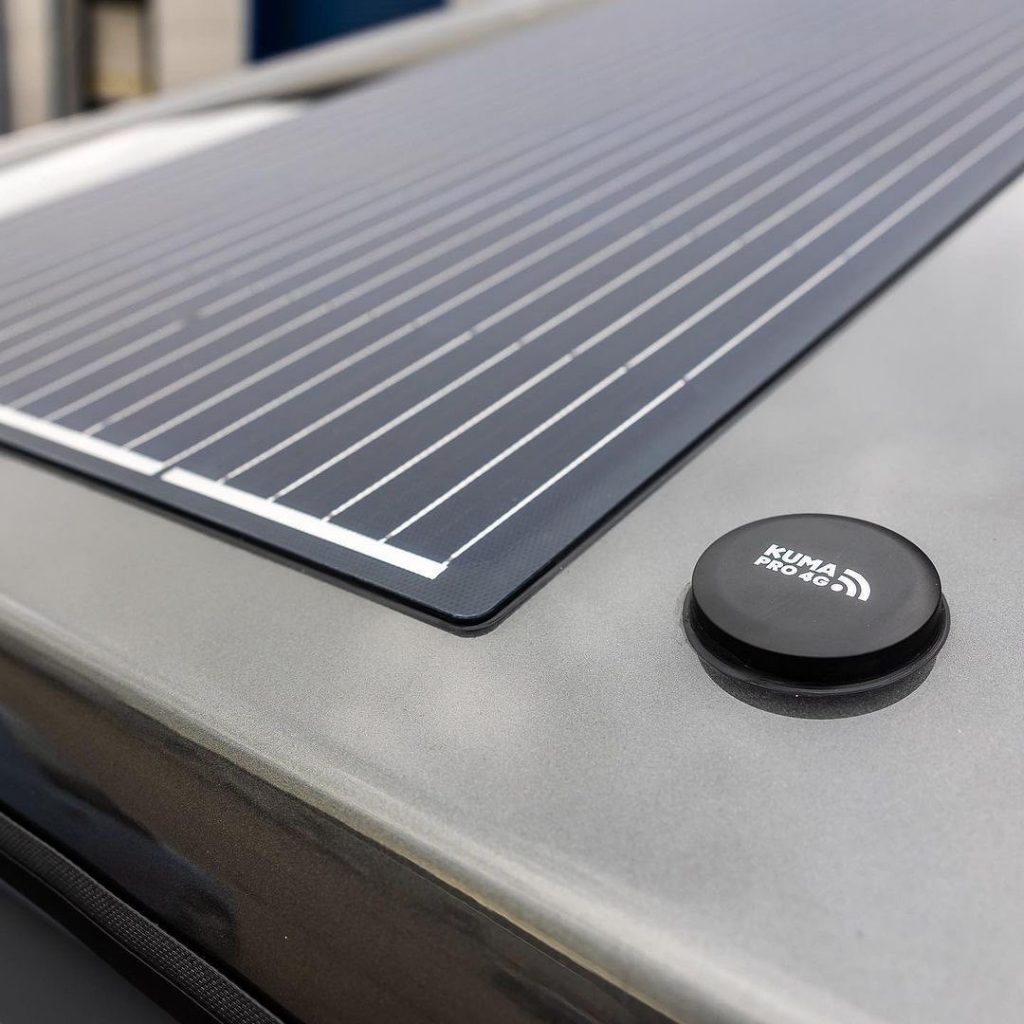 Such a vehicle enables you to wake somewhere beautiful that inspires your creativity. Or maybe you can park somewhere close to the construction project you're working on, for that site meeting first thing in the morning, without fighting the rush hour traffic.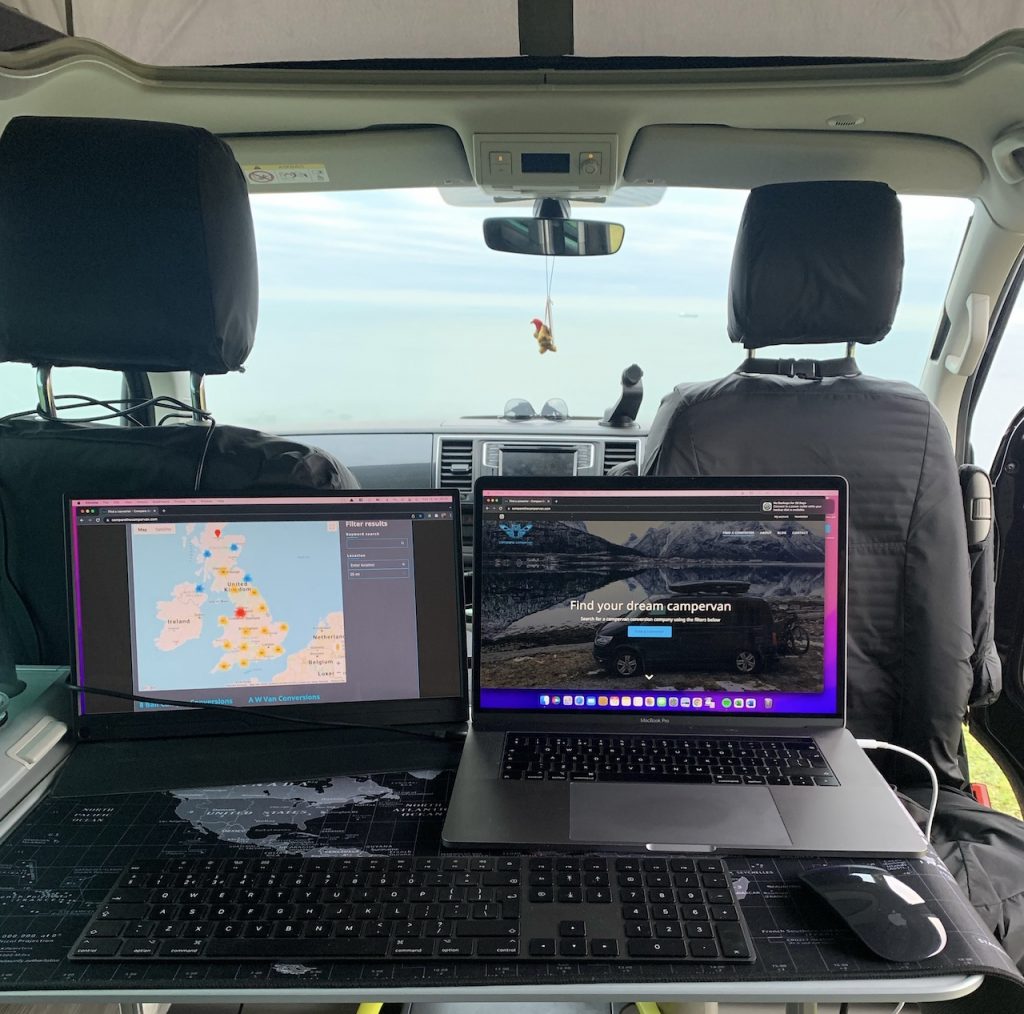 If you're looking for such a campervan, try searching for one of over seven hundred companies listed on our website. You can enter your specific requirements in the search filters.
Back